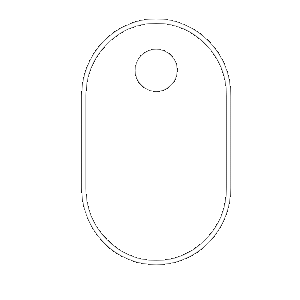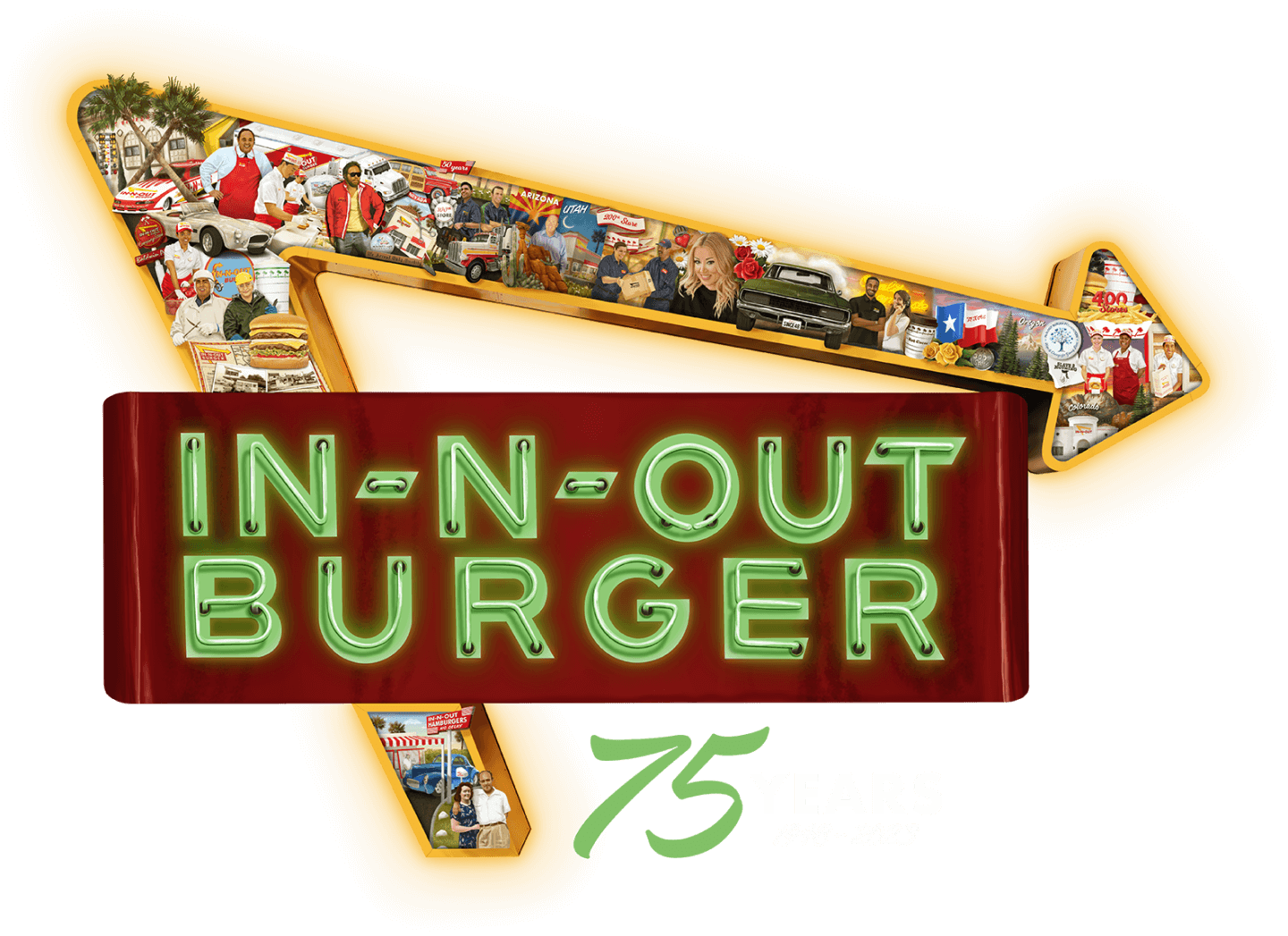 Get Updates Straight to Your Inbox
Sign up for exciting email updates on special In-N-Out events, new merchandise, and impactful fundraisers! 1948
HARRY AND ESTHER SNYDER
Harry Snyder introduces California's first drive-thru hamburger stand in a space barely 100 square feet at Francisquito and Garvey in Baldwin Park, California. Every day, Harry supplies his stand with fresh meat and fresh produce to serve to his customers. Meanwhile, his wife Esther diligently manages the bookkeeping for their restaurant.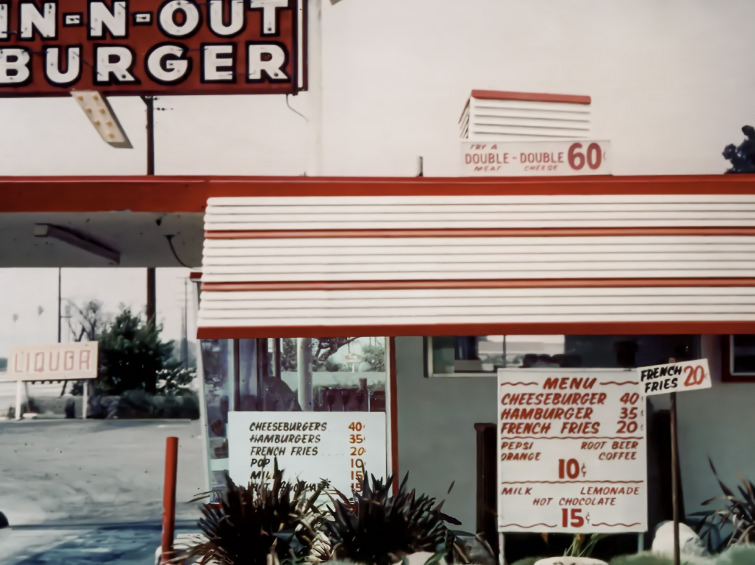 1963
Double-Double appears on the menu
Costing only 60 cents, the Double-Double is introduced to Customers in 1963 when it is displayed on a hanging banner outside of the burger stand. Later, the popular item officially becomes part of the restaurant's menu.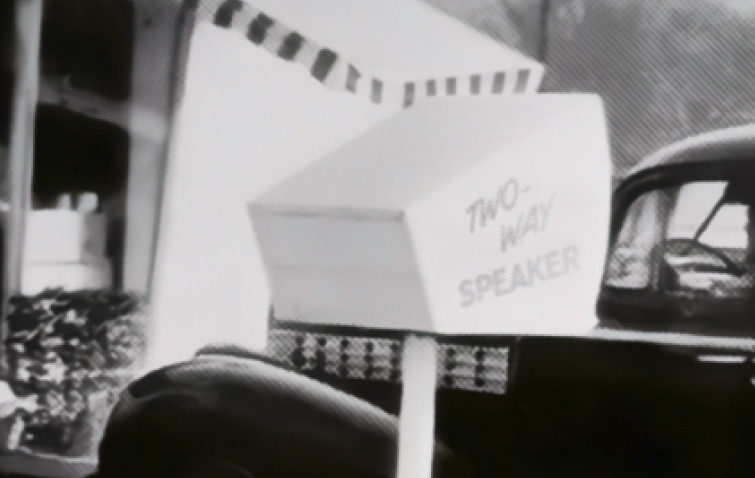 1948
Two-way speaker
Harry's vision of enabling his Customers to order their meals in their car comes to fruition when he introduces the Two-Way Speaker. This special introduction allows In-N-Out to offer true drive-thru service worthy of its name.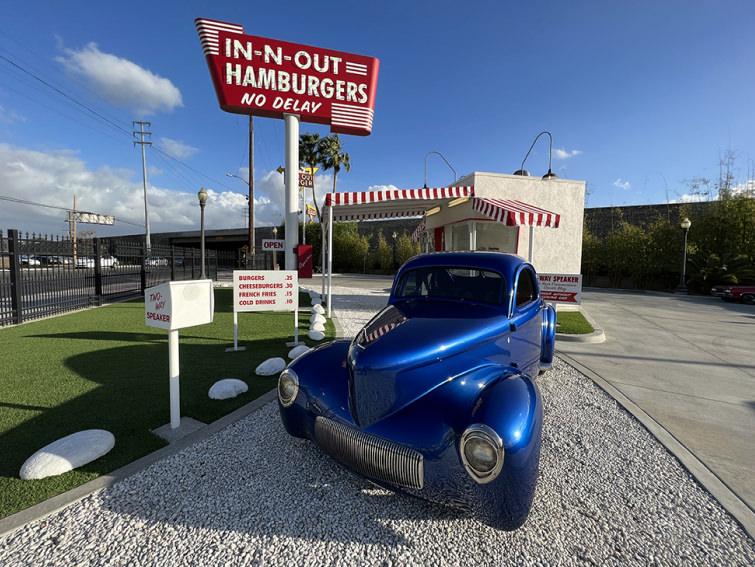 Willy's Coupe in Drive-thru at store #1
The 1941 Willy's Coupe serves as an homage to Guy Snyder, as it is a vehicle he owned, worked on and raced in. The classic California hot rod can be seen on the back of several of In-N-Out's collector's T-shirts.
1974
Store Associate Uniform
In 1974, the traditional colors of In-N-Out become part of each Associate's uniform as red aprons replace white. Until now, uniforms have been all white except for black shoes and belt.
Butcher
Since 1948, we've always made our hamburger patties ourselves. Every day before dawn, Harry would visit the meat market to not only personally select the front quarter chucks, but also stand and watch as the butchers de-bone and ground the beef. Our meat department continues to uphold the same high standards to this very day, by personally selecting only the highest quality chucks in order to make our ground beef. We still hire and train our own butchers, who take great pride in helping us serve the burgers our Customers love.
Sanitation Associate
Our Sanitation Associates are responsible for using all proper cleaning procedures so that it meets with both In-N-Out and USDA standards.
First lapmats printed
In-N-Out founder, Harry Snyder, first takes the brown wax paper used to package his bakery buns and creates hand-cut lap mats for Customers who choose to eat in their cars. He switches to pink butcher paper, but a suggestion from a printing company inspires Harry to replace butcher paper with printed mats that offer helpful information to Customers. Early lap mats featuring local maps with In-N-Out locations would often wind up in glove boxes to help drivers find their way around town.
1975
Milkshakes added
Real ice cream milk shakes officially join the In-N-Out menu in 1975. Malts had previously been available at select locations for nearly a decade. Earlier, shakes had been mixed for Customers right in their paper cups, requiring Associates to have plenty of skill at avoiding ripping those cups during preparation.
1975
First t-shirt
A cartoon fryman designed by In-N-Out founder, Harry Snyder, becomes the first T-shirt design in a continuing series of popular T-shirts. Today's In-N-Out Customers can purchase shirts at all our locations, including company stores in Baldwin Park and Las Vegas, and through our website, shop.in-n-out.com.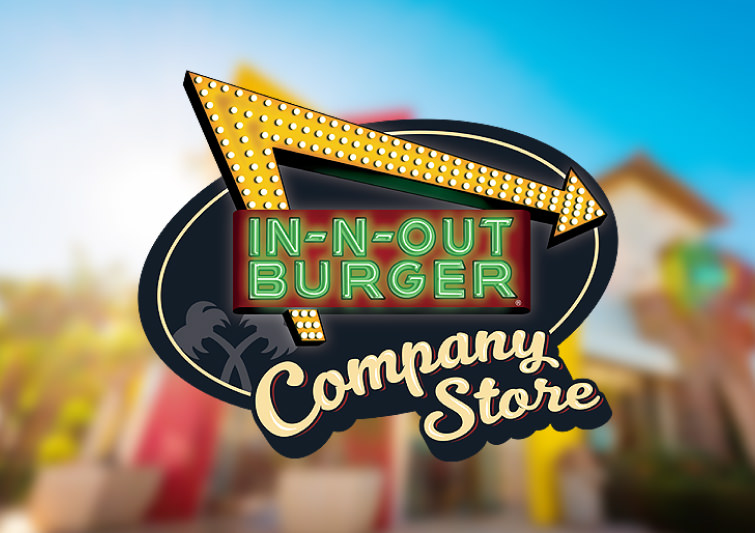 1989
Company store founded
The In-N-Out Company Store officially opens at In-N-Out's original Baldwin Park location, providing a signature line of products that began with the first In-N-Out T-shirt in 1975. The introduction of the annual T-shirt design begins around 1984. The In-N-Out Company Store now has three locations in addition to the online store: the original in Baldwin Park, California, and two in Las Vegas, Nevada. Today, In-N-Out fans can purchase everything from beach towels to over-sized safety pins that secure our Associates' aprons.
Car Culture
With strong ties to California's car culture, the longtime association of In-N-Out with drag racing and classic cars represents a strong part of the In-N-Out heritage today.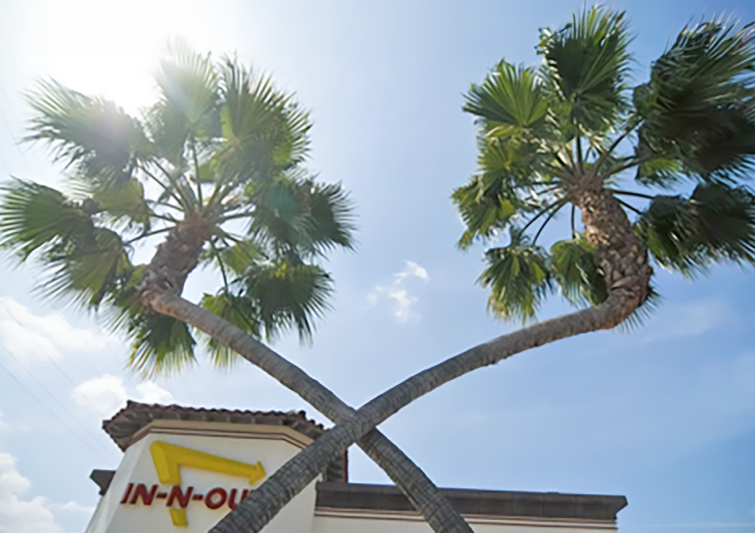 1972
Crossed palms
One of founder Harry Snyder's favorite movies, "It's a Mad, Mad, Mad, Mad World," features characters racing to find treasure buried under four palm trees planted to resemble the letter W. Given that each In-N-Out store is Harry's treasure, a tradition of planting crossed palm trees in front of most In-N-Out locations begins in 1972.
1952 – 1993
Rich
As part of Rich Snyder's commitment to make every Customer's visit to In-N-Out a great one, a new direct toll-free customer service line becomes available every day to ensure the quality of the In-N-Out experience. Rich's dedication toward training In-N-Out managers to provide our Customers with the highest quality service helped drive the establishment of In-N-Out University. Under his guidance, In-N-Out grows to 93 locations. He and his mother, Esther Snyder, establish the Child Abuse Fund, which later grows to become the In-N-Out Burger Foundation. Rich Snyder tragically passed away on December 15, 1993.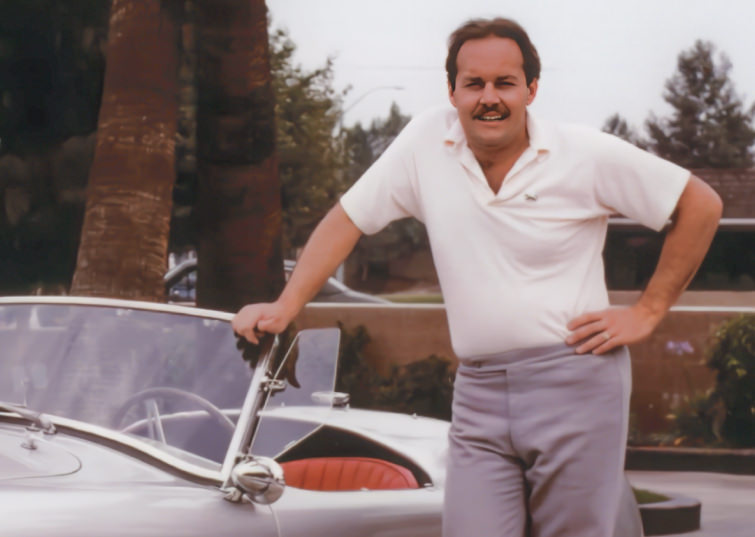 1951 – 1999
Guy
During his tenure as Chief Executive Officer, Guy Snyder adds new In-N-Out locations that grow to a family of 140 restaurants. Guy is remembered for his commitment to quality and taste, as well as his passion for drag racing as a car owner and driver. Most of all, his legacy includes his relentless concentration on improving processes and equipment throughout the company to achieve ever-higher levels of quality and service for In-N-Out Customers. He tragically passed away on December 4, 1999.
1984
University founded
Situated on the site where the Snyders' home stood in 1948, In-N-Out University gets its own building in 1984 after operating just around the corner from Store #1. Rich Snyder launches the new facility, ensuring that entry-level managers from all In-N-Out restaurants receive the training that lets our guests look forward to the highest quality food, cleanliness and customer service.
1974
First cookout event
A grill loaded onto a pickup truck and accompanied by two of In-N-Out's earliest Associates launches the Cookout Department in 1974. Today, nearly 20 fully self-supported cookout trucks and 125 Associates serve venues and events, ranging from schools, churches and charities to weddings, birthdays and concerts. Every burger is made fresh-to-order and served by our team of friendly Associates in Los Angeles and Orange County, as well as limited parts of Ventura, San Bernardino and Riverside Counties. Additional service is offered in limited parts of the Dallas-Fort Worth Metroplex, Denver, Colorado Springs and Las Vegas.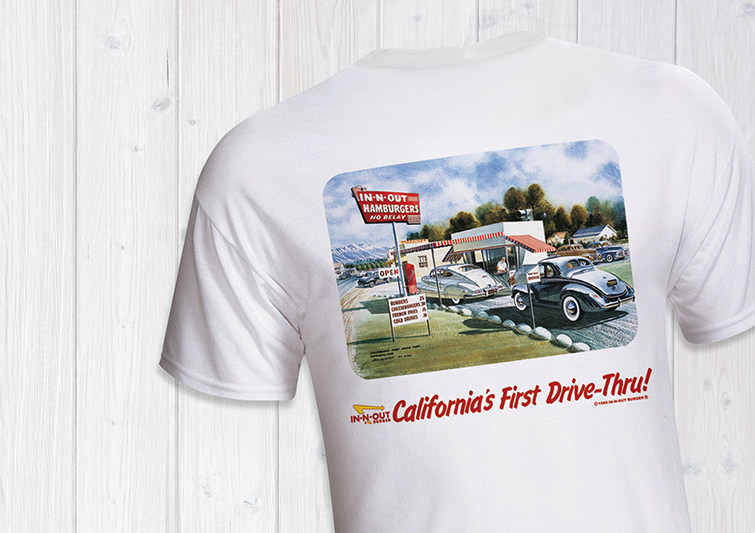 1984
Annual t-shirts started by Guy
Guy Snyder begins the introduction of annual T-shirt designs inspired by his love of cars and racing. Around 1984, announcing a new design from a top artist becomes an annual tradition. Today's In-N-Out Customers can purchase shirts at all our locations, including company stores in Baldwin Park and Las Vegas, and through our website.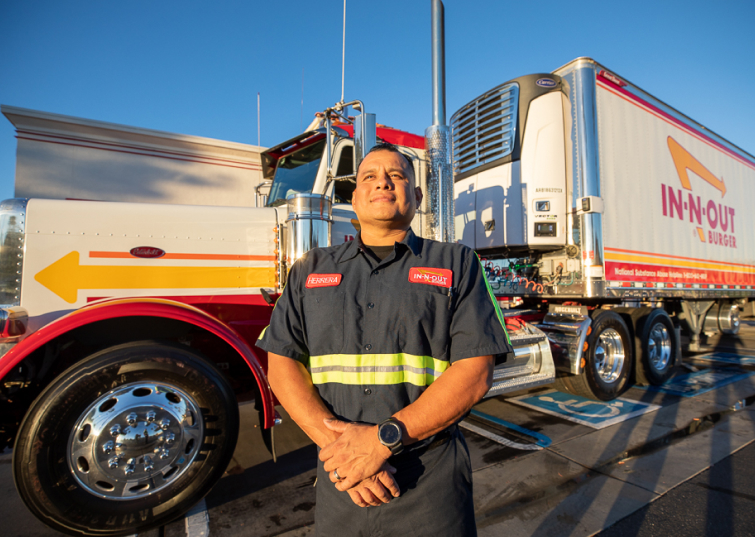 Truck Driver
In-N-Out Associates work diligently to ensure that the freshest and highest quality ingredients are delivered throughout the week to all of the company's locations.
Maintenance Associate
Each department in the In-N-Out Family plays a key role in fulfilling our commitment to providing the highest quality, service and cleanliness support to our stores and Customers.
In-N-Out Burger

Foundation established

Driven by Esther Snyder's belief that every child deserves a chance and a future, the In-N-Out Burger Foundation is established in 1984 by her and her son, Rich. The foundation's year-round fundraising efforts provide residential treatment, emergency shelter, foster care and early intervention for children in need. With In-N-Out consistently paying 100% of the foundation's administrative costs, all funds raised go directly to centers providing help to neglected and abused children
1992
First Nevada location opens
In November of 1992, In-N-Out opens a restaurant at 2900 W. Sahara Blvd. in Las Vegas, Nevada. The company's 80th location becomes the first outside of California to serve the quality and freshness of an In-N-Out burger.
1994
100th store
On November 10, 1994, the 100th In-N-Out restaurant begins serving to Customers at 641 Leavesley Rd. in Gilroy, California.
Delivery Trucks
As with all In-N-Out locations, fresh ingredients are delivered throughout the week and supplied to the store from In-N-Out.
1998
50th Anniversary & Woody
In October of 1998, In-N-Out reaches the half-century mark with 134 restaurants and 5,498 Associates. A commemorative T-shirt bears an image, by artist Mark Davidson, of a classic 1950's-era Woodie station wagon in front of an In-N-Out drive-thru. After 50 years, the company remains a family business, maintaining the dedication to quality and customer service that the Snyder's established with their very first store.
1991
Customer service line opened
As part of Rich Snyder's commitment to make every guest's visit a great one, In-N-Out begins to provide a toll-free, customer service phone line in 1991. The service is available every day from the time the first restaurant door opens until the last door closes, and ensures the quality of the In-N-Out experience is as easy as a call to 1-800-786-1000.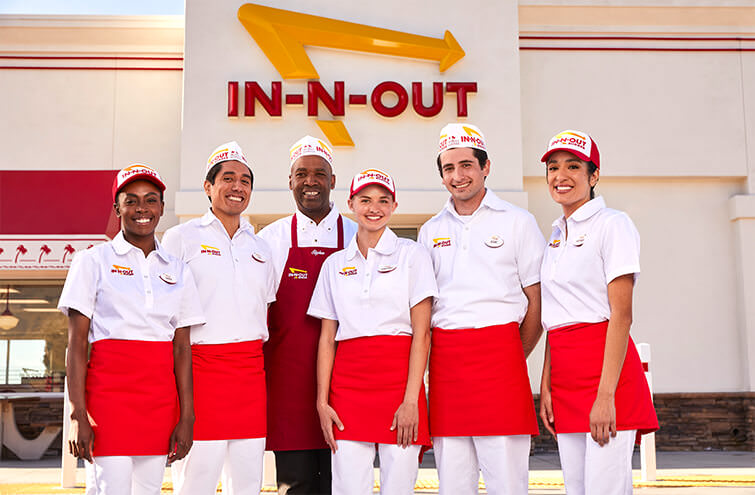 Store Associates
Throughout its history, In-N-Out has been blessed with dedicated Associates who take great pride in providing Customers the highest quality food, cleanliness and customer service.
1990
Mark Taylor
Managed by Mark Taylor, the 64th In-N-Out location opens in West Covina, California in 1990, and becomes the R&D launching ground for new equipment and customer service innovations. Mark started his In-N-Out career as an hourly Associate, worked his way up to store manager and then earned the opportunity to open this important location that becomes one of the busiest locations in the company. Mark Taylor will later become Division Manager, General Manager, Vice President of Operations, and President and Chief Operating Officer of In-N-Out Burger.
2000
Arizona opens
On May 3, 2000, store #143 opens in Lake Havasu City at 81-101 London Bridge Road. In-N-Out now serves guests at locations in California, Nevada and Arizona.
2008
Utah Opens
In 2008, Washington City becomes the first community in Utah to become home to an In-N-Out. The company's 215th location at 822 W. Telegraph Street begins serving Southern Utah on April 22.
2005
200th store
In 2005, the grand opening of a second In-N-Out location in Temecula, California marks the 200th restaurant in the family. Welcoming guests on December 30, the store adds to a presence that extends from California to Nevada and Arizona. In keeping with the local spirit of each In-N-Out location, four of the first customers to try the drive-thru arrive on horseback.
2010
Lynsi
Lynsi Snyder is a visionary and servant leader committed to maintaining and enhancing the well-being of the entire In-N-Out Burger family, which now numbers over 36,000 associates. She directs and helps to oversee all of In-N-Out Burger's philanthropic efforts through the In-N-Out Burger Foundation, which was started by her Grandma Esther, Uncle Rich and Mother Lynda, and the Slave 2 Nothing Foundation, which was started by Lynsi and her husband, Sean Ellingson. Lynsi and Sean are also the founders and visionaries for Army of Love, a nonprofit organization that exists for the purpose of uniting the body of Christ through training tools that will set them free to set others free.
2018
Hot cocoa added
Bringing back a favorite from its early history, In-N-Out once again adds Hot Cocoa to the menu in 2018. First offered in the 1950s, the newly introduced version is made with quality cocoa from Ghirardelli and served with marshmallows. Kids under 12 can enjoy it for free on rainy days. This is the first menu addition since Lemonade was added 15 years earlier.
2011
Texas opens
Texans get two good reasons to celebrate on May 11, 2011, as the state's first two In-N-Out restaurants open on the same day in Allen and Frisco. A brand new warehouse and patty-making facility also opens in Dallas, ensuring that these new restaurants, and others that will follow, can guarantee the same quality and freshness as stores closer to our original Baldwin Park facilities.
2015
300th store
On January 7th, In-N-Out celebrates the addition of its 300th restaurant and its second location in Anaheim, California. Our family of restaurants serves quality burgers, fries, and shakes across five states: California, Nevada, Arizona, Utah, and Texas.
2015
Oregon opens
On September 9, 2015, In-N-Out Burger reaches its sixth state and celebrates the opening of the restaurant in Medford, Oregon. In-N-Out now serves quality burgers, fries, and shakes in: California, Nevada, Arizona, Utah, Texas and Oregon.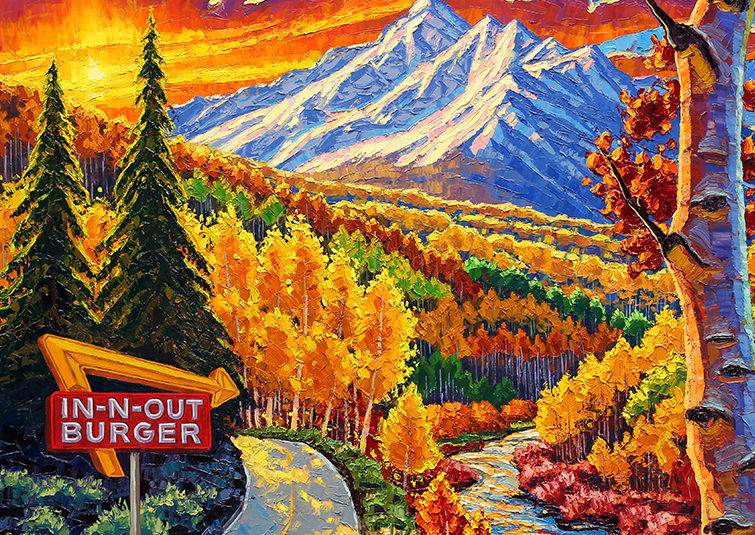 2020
Colorado opens
Coloradoans get double the reason to celebrate on November 20, 2020 as the state's first two In-N-Out restaurants open on the same day in Colorado Springs and Aurora. Because of a rigorous commitment to quality and freshness, a brand new warehouse and patty-making facility also are underway in Colorado Springs. This ensures that these new restaurants, and others that will follow, can guarantee the freshest, highest quality foods.
2016
Slave 2 Nothing foundation established
The Slave 2 Nothing Foundation was established in 2016 by Lynsi Snyder and her husband, Sean Ellingson, to help improve the lives of individuals and families affected by substance abuse and/or human trafficking. The Foundation helps bring hope to people for a better life, and that is one of the best ways to help our communities become stronger, safer, and better places to live.
2016
400th store
With the In-N-Out Burger Family consisting of over 36,000 Associates at nearly 400 locations, each restaurant remains dedicated to the same classic menu of burgers, fries and fountain drinks first introduced by Harry and Esther Snyder – freshly prepared to each guest's liking and never relying on microwaves or freezers. In-N-Out has locations throughout California, Nevada, Arizona, Utah, Texas, Oregon and Colorado.